The Wedding Bible Template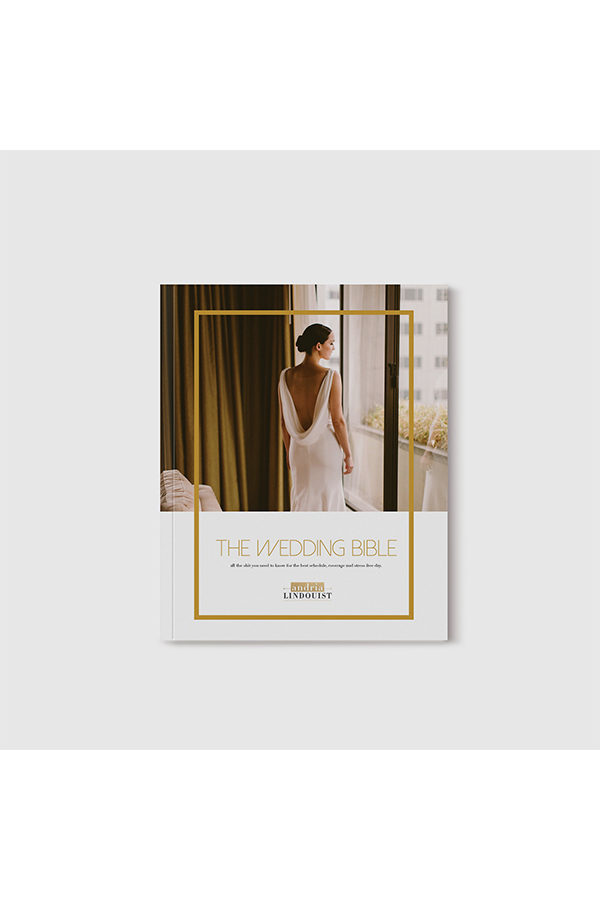 The Wedding Bible Template
20 Page Wedding Bible Template
Fully Customizable and Ready to wow.
WHAT YOU WILL BE GETTING:
+ 20 Page Template
+ Fully Customizable to match your Brand, Type, Color and Vibes
+ "How To" Get Started Guide to Design
+ 2 Cover Styles to best fit your brand
+ Font Links & Download
+ Option to Save and Send as a PDF or Print and Mail to Clients
+ Change Page Theming, Topics or Remove if you'd like.
PAGES INCLUDED:
2 Cover Styles to choose from

Intro to your Style & Philosophy

Day of Schedule

Bridal Getting Ready Info

Bridal Party Deets

Highlight your Favorite Vendors

Grooms Getting Ready

First Look Info & Impact on the Day

Portrait Details & Tips

Ceremony Info for Best Photos

Winter Schedule

When to Hire a 2nd Shooter

Reception, Speeches & Dancing Info & Tips

Pages to Inject your Voice & Brand

Heaps & Heaps more.
*This is not a completed guide to purchase & send to your clients, the bible is a template to make your own by injecting your voice, photos and brand.*
THE WEDDING BIBLE is here and ready to save your day, your time and help you get the exact information you want in front of your couples.

An educated client is the best client. Getting the right information in front of your clients allows you to not only run as a well oiled machine but also considerably impacts your client experience. Imagine never having to repeat the same information again & again, all the while maintaining the level of education and preparation you dream of with each of your couples. The Wedding Bible is a must for preparing your clients for the best coverage, schedule, knowledge about light, ceremony setups, do's and don'ts, and hella tips you have under your belt. Not only to impact your client experience but also dramatically change the amount of time you spend telling the same info over and over - or even worse, forgoing information because you just don't have the time!

Time. The thing we all need more of as Wedding Photographers. We often have to choose between checking things off our to-do list or taking the time to really explain the information we need our clients to have. During the client process, you'll often find us repeating ourselves and wasting precious time that could be spent elsewhere is where - which is why I've created the Wedding Bible. We need to work smarter, not harder. You will save so much time not repeating yourself, but have not lost the opportunity to get the exact info you want in front of your clients. You will no longer need to write out the differences between doing and not doing a first look, why you need to be fed at a wedding, how light impacts their portraits and ceremony and every last thing that helps you get the best coverage. Take control of the information your clients know about their wedding coverage and get better photos, happier clients, less stress, more time away from your inbox, and less time relaying the same info back and forth because of it.

Dramatically impress your clients with a Wedding Bible that will knock their socks off. You will gain their trust with a full guide preparing them for the best wedding, coverage and relationship with their photographer.

Been putting this off for years? Not good at design? Dont even have close to the time it takes to create something like this? YOLO & worry no more! Avoid the huge cost of hiring a designer yourself and the time it takes to concept, draft and design - and just drag and drop your images and info into the guide, insert your own words and preferences and boom! You've got a polished, beautiful, one and done Wedding Bible on your hands. Each page has a theme and words from me about what text to put where. Take a day and have a beautiful, well thought product to send your client.
WHAT YOU WILL BE GETTING:
+ 20 Page Template
+ Fully Customizable in InDesign
+ "How To" Get Started guide
+ 2 Cover Design Options to best fit your brand
+ Remove pages, change theme as needed.
FULLY CUSTOMIZABLE:
The Wedding Bible has all design elements to give you a professional template, yet enough room to customize it to match your brand, color, voice and vibe. There's a mix of leading info (this is a space to talk to your clients about....) and tips from me to you on things I've learned in my 150+ weddings. Go page by page and insert your favorite wedding images, how you prefer each part of the day, timeline options….down to the smallest tips you love to give your brides. Like, take that hairband off your wrist while getting ready! Or remember to wear your rings during portraits!
The Bible is not: a purchase and send item, you will be able to take it and inject your voice, your brand, your photos and your preferences. The bible is a beautifully designed guide for you to take and make your own. With a perfect mix of guidance along the way, yet enough room to tailor it to your brand.
SPECIFICATION:
The Bible can be saved and sent as a PDF to your clients or sent as a printed Magazine to really wow them.
If you are printing your Bible, I recommend SmartPress for incredible quality. (Printed in Standard 8.5x11 Size)
If you dont already own InDesign, you can easily purchase a months use from Adobe Creative Cloud for 19.99 and make your designs inside. You can also download a free trial.
Your download from AL/O must be edited in InDesign (not photoshop) where you can change text, fonts, insert images. You will receive a "How To" page to get you going, making it easy for even the newest to InDesign.

Fonts used in the Design Template are included in the download purchase, or you may use your own type to match your branding.

Once you purchase the template, you will have 24 hours to download the link and save it on your computer. One download per Sale….please respect the time, talent, cost and effort to create this and do not share the download, content or design with others. God is watching.
//
I first made my Wedding Bible in 2012 for my couples to be the most educated and have all the info out there in order to positively impact their day. Plus i just hate repeating myself, but I'm obsessive about them having all the info. When you have an educated client, you have a happy client...and an even happier photographer.  I completely overhauled and recreated The Wedding Bible in Winter 2017 to send out magazine style to my couples (because in hand print is a disappearing art) and started working with a designer in 2018 to transfer over all my designs into a fully customizable template - so you can inject your voice, colors, imagery and vibe and make it completely yours. I'm so excited for you to take what I've created and adopt it to best fit your brand and get some happy & educated couples on your side.